Attention: LIMITED Stocks On This Exclusive Design
The Rugged 3-in-1 
'Buy it For Life'
Trailside Utensil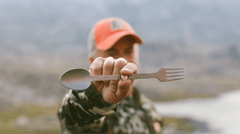 A Titanium Fork, Spoon, And Bottle Opener 
Wrapped In a Single Ultra-Light 0.82 oz Frame
Claim Yours Now
Discover the Patented Design 
That Puts All Other Outdoor Utensils to Shame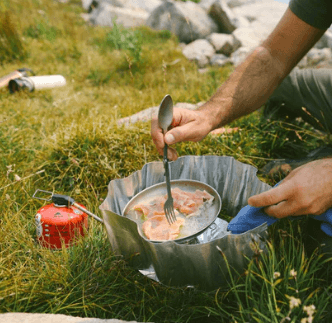 3 Tools for the Space of 1:
Save Valuable Backpack Space By Combining Your Fork, Spoon, and Bottle Opener in One Sleek Design.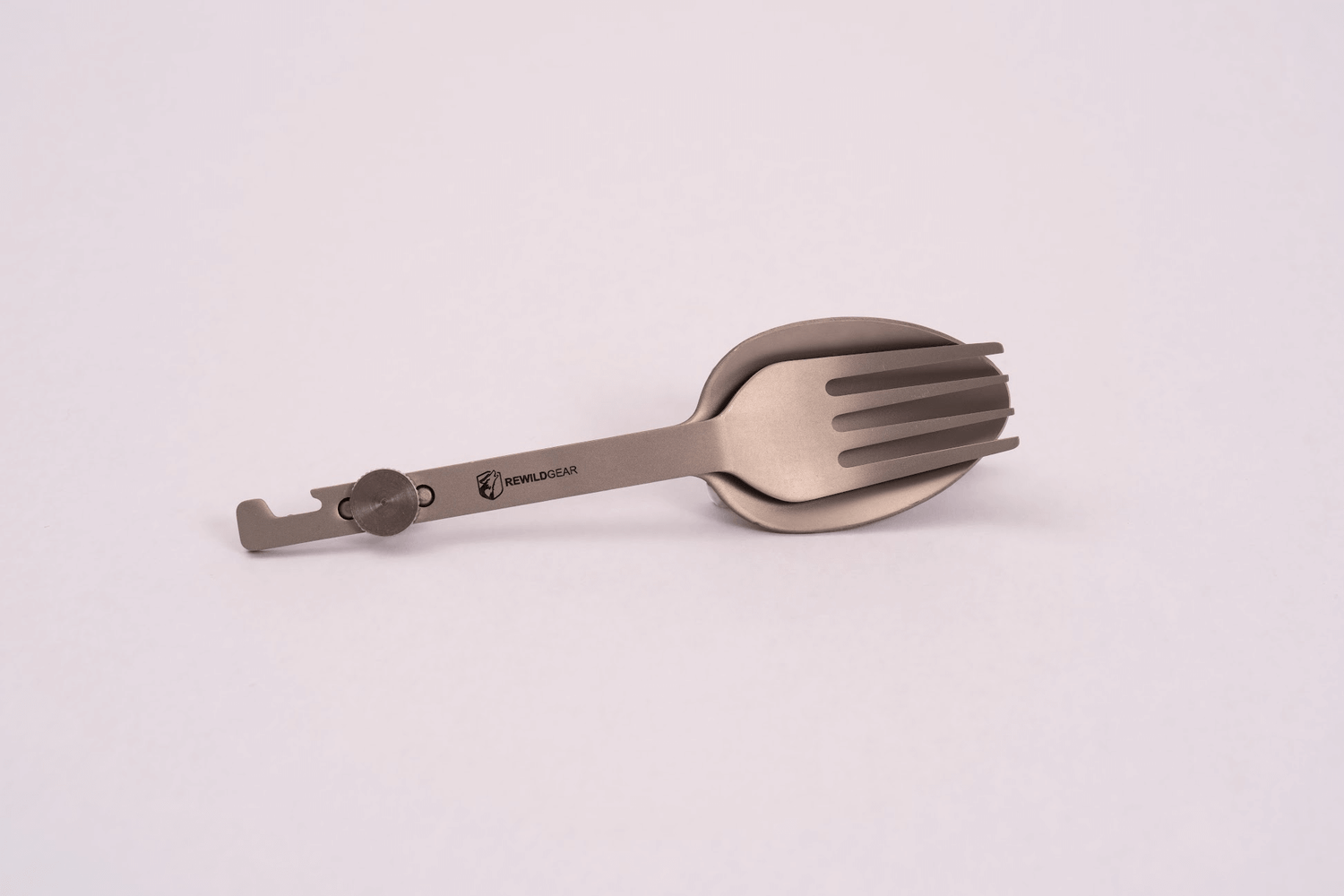 Foldable To Conveniently Store In Your Bag, Cookware, Or Pocket.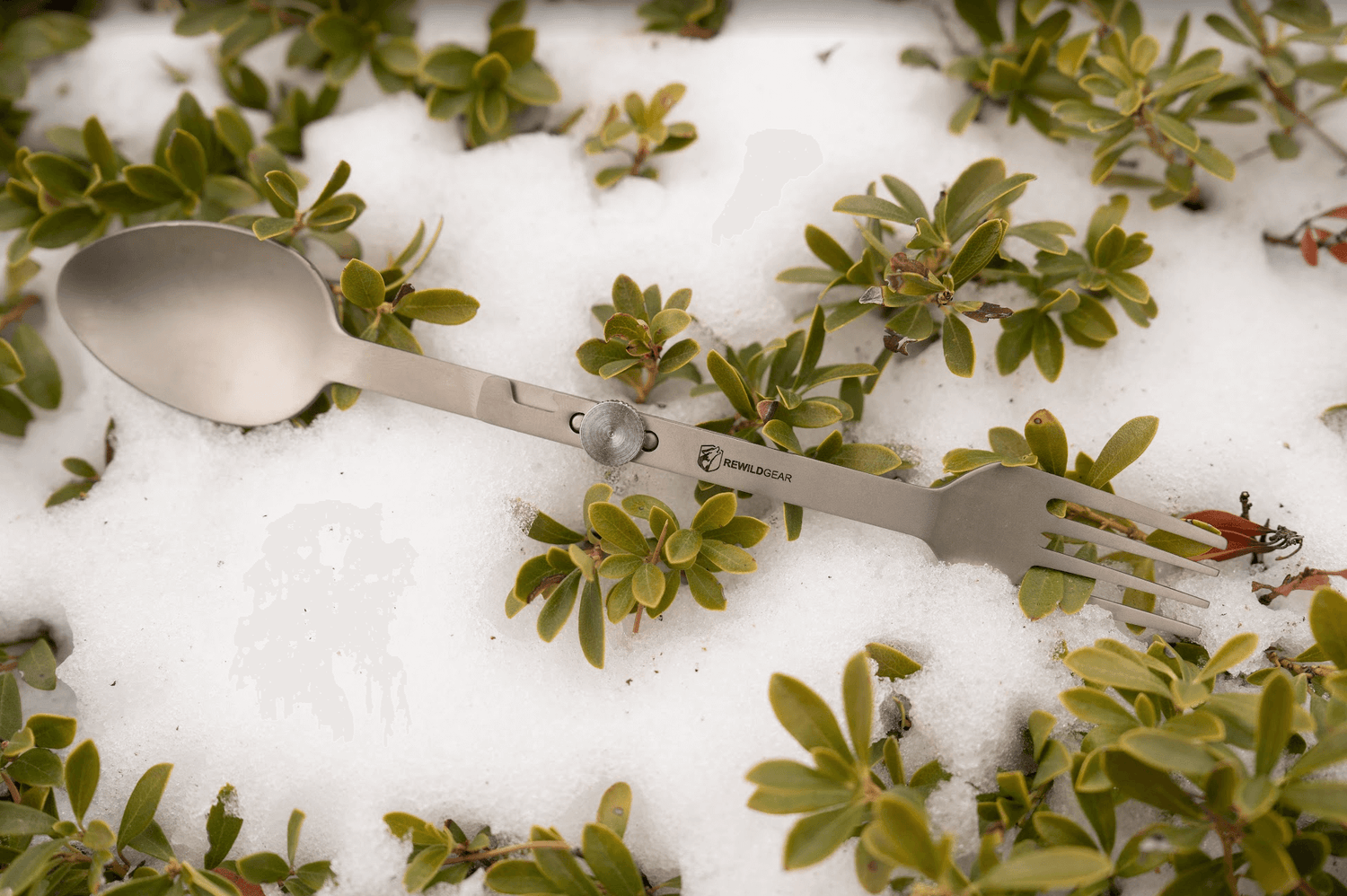 Durable Yet Ultra-Light Utensil Weighs About the Same as a Single AA Battery at 0.82 ounces.
Extra Long to Let You Reach Deep Into Freeze-Dried Meal Bags Without Getting Goopy Sauce All Over Your Hands.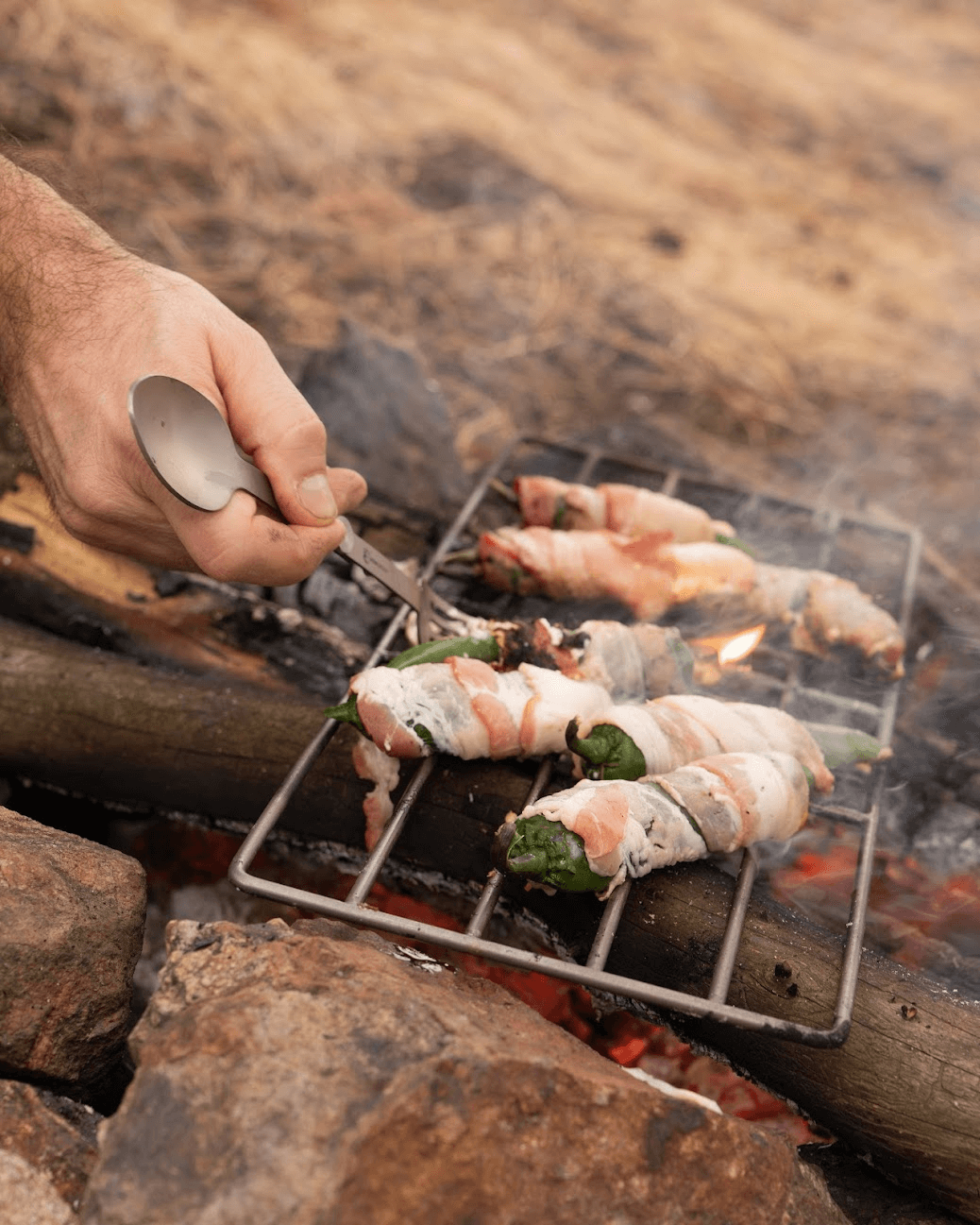 Titanium 'Buy It For Life' Legacy Construction That Will Withstand The Rigors of Outdoor Use For Decades to Come.
Don't Just Take Our Word For It
"Trail Side Utensil is special"
What I like about the Trailside Utensil is that Rewild Gear really engineered a cool and functional piece of equipment. Anybody can stamp a fork or spoon out of metal but the Trail Side Utensil is special. I really appreciate its ruggedness and the thought and design that went into its development.
I love that it's part of my mess kit.
Jonathan
"Best Utensil Around"
This is the most innovative utensil design I've seen on the market! This utensil is a joy to use in the backcountry or in the office. The titanium is lightweight but very durable. This piece of kit never leaves my bag and travels with me everywhere.
I highly recommend it!
David
"Brilliant"
There are a lot of utensils out there and if your like me, you've been searching high and low for the perfect one. Look no further, The trailside utensil is top of the line. Compact, light, durable, fits in your pocket but extends plenty long enough to reach in the bottom of pots and freeze dried bags.
Love this thing!
John S 
So… Why not a spork?
Sure, sporks are versatile, but let's face it – they're not great at completely replacing either utensil.
They're bad forks because they can't impale a medium-rare steak.
And they make for horrid spoons, as soup and sauce just leaks through the gaps.
That's why we constructed our Trailside Utensil.
Because like a spork, it's both a spoon and a fork in 1 piece…
But unlike a spork, it excels at its true mission in life…being the spoon and fork.
Plus, it also comes with that bottle opener!
Meet The Passionate Outdoorsman Behind Rewild Gear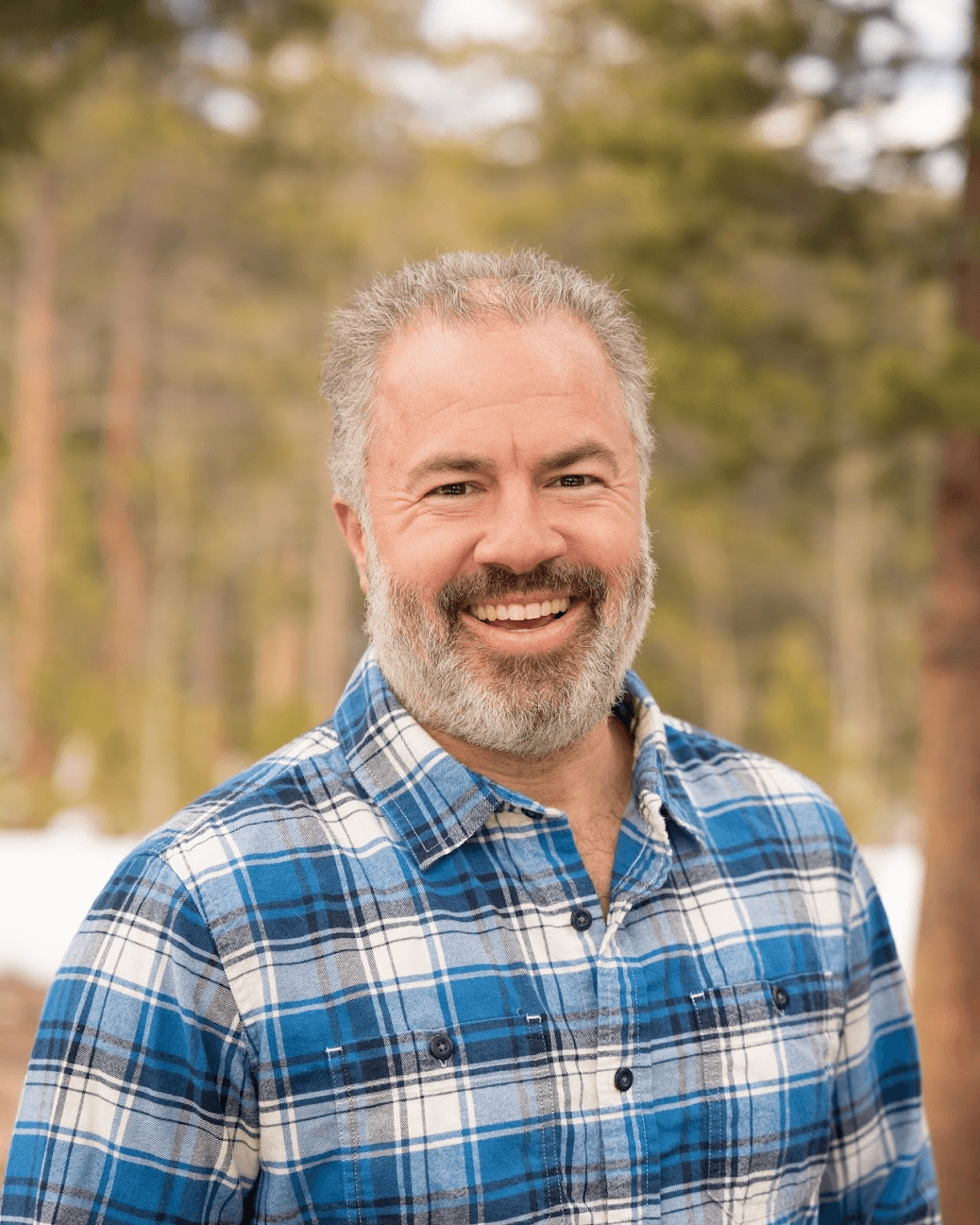 Hi, I'm Seth Spears.
Now we're really proud of our patented utensil here. It's unlike anything else on the market today.
Virtually all other utensils are either not foldable, are sporks, or are either too heavy or too 'cheap feeling'.
That's why we designed our utensil using the most durable, lightest metal known to man - titanium. 
And then we took it one step further…
See, size really DOES matter. So we made our device extra long - nearly 9 inches!
Folded up, it's about as big as a common spork. But click it into full extension and it becomes the length of a long cooking utensil. It's way longer than the typical forks and spoons you have at home.
As you know, when we're outdoors, we're not always eating from plates, but scraping the bottom of deep freeze-dried food bags and cans.
With that extra-long reach, you're not getting a literal mess on your hands.
Here, let me show you how it works:
Not Just For Camping, Hunting, and Hiking
Pop open a cold one with the bottle opener, then dig into the pulled pork with the fork or spoon

Perfect to eat from cans, bags, or straight from your survival campfire

Substitute disposable cutlery for your "to go" lunch or for your kids at school
Eco-Friendly, Durable, and Non-Toxic
Titanium stands out as a superior material for utensils when compared to steel, aluminum, and plastic. Here's why:
Healthy:  Titanium is non-toxic and safe for the human body. Unlike some aluminum and plastic utensils, titanium won't release chemicals when exposed to heat or acidic foods. So it's not just better for your body, but it won't spoil the flavor of your food either.
Great For The Planet: Titanium is an abundant and naturally occurring element. It requires less energy to produce compared to steel and aluminum, reducing its environmental impact. Additionally, titanium is highly recyclable and has a long lifespan, making it a more sustainable choice than single use plastic utensils that contribute to pollution and waste.
Strong And Durable: Titanium is known for its high strength-to-weight ratio, making it an ideal material for outdoor gear. It's resistant to corrosion and can withstand harsh conditions without compromising its structural integrity. This ensures that your Trailside Utensil will last for years to come, reducing the need for frequent replacements and contributing to a more eco-friendly lifestyle.
By choosing the Trailside Utensil, you're not only investing in a high-quality, versatile tool but also making a responsible choice for your health and the environment.
Get Your Titanium Utensil Now
Try it RISK-FREE
With Our 30 Day Money Back Guarantee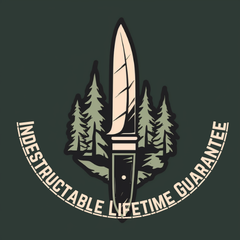 We're so confident that you'll love the Trailside Utensil that we're offering a 30-day no questions asked money back guarantee. 
If for any reason you're not satisfied with your purchase, simply contact our customer support team via phone or email within 30 days of receiving your order. 
And we'll get your money back, no questions asked.
We believe in our product's quality and value. And we're committed to making things right if it doesn't meet your expectations. 
So go ahead and give the Trailside Utensil a try, knowing you have nothing to lose, yet so much to gain.
Try it Risk-Free Today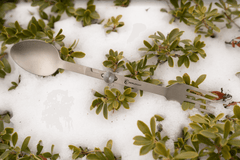 LIMITED Patented Design
You won't find this patented design anywhere else.
And as a small American family business, we don't mass-produce these utensils.
So if you're really down to get one of these, but might think of putting it off, DON'T.
You might miss out if we run out of stock…And these utensils are very popular.
Your best bet to own one is – NOW.
We also recommend you get more than one, as it's easy to lose track of where you're keeping yours.
Plus, you can keep a utensil in your backpack, in your EDC kit, or even in your car.

Or why not give one to a friend or loved one, or to your kids so they can use a healthy, toxin-free to eat lunch with at school.
Order Your Utensils Today
Secure Checkout Seals
How much does the Trailside Utensil weigh?

The Trailside Utensil weighs 0.85 ounces / 24 grams, which is about the same as a single AA battery. This ultra-lightweight is perfect for reducing the burden on your pack.

 How long is it folded and unfolded?

Folded, it's 5.35 inches, so it should fit in your pocket, small bag, or cookware. Unfolded it's 8.75 inches, letting you scrape the bottom of the deepest food cans.

Is the Trailside Utensil easy to clean?

Yes, the titanium, corrosion-proof construction makes it easy to clean and maintain. Just rinse it off with water and wipe it down after use.

Can I use the Trailside Utensil for cooking as well?

While the Trailside Utensil is primarily designed for eating, you can use it for basic cooking tasks like stirring or serving.

How do I store the Trailside Utensil when not in use?

The Trailside Utensil is foldable and compact, making it easy to store in your cookware or pack when not in use.

What makes the Trailside Utensil better than a traditional spork?

Unlike a spork, the Trailside Utensil excels at being both a spoon and a fork without compromise. Plus, it includes a bottle opener, making it even more versatile for all your outdoor adventures.

How durable is the Trailside Utensil?

The Trailside Utensil is made from high-quality titanium, ensuring it is strong, durable, and long-lasting, ready to withstand the rigors of outdoor use and stick with you for life.

Is there a money back guarantee?

Yes! In the unlikely event you're not thrilled with your utensil, you can return it to us within 30 days and we'll give your money back – no questions asked.